EECP® Therapy - A simple, non-invasive solution to the complex problem of angina and heart failure.
Offered exclusively by Vasomedical, Inc., EECP® Therapy is a safe, non-invasive, outpatient treatment option for patients suffering from ischemic heart diseases such as angina and heart failure. EECP® Therapy has helped hundreds of thousands of patients around the world. Clinical studies show over 75% of patients benefit from EECP® Therapy with sustained improvement up to three years post-treatment.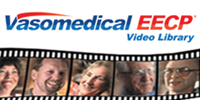 Watch and listen to heart failure, angina patients and cardiologists describe the benefits of noninvasive, outpatient EECP® Therapy.